Tractel Lever Hoists
Buy Tractel lever hoists from Lifting Hoists Direct, a leading UK supplier with the keenest prices around.
Click here to go straight to Products or read on.
Why Buy a Tractel Lever Hoist?
Tractel lever hoists are just one product from the Tractel range of lifting equipment. This brand has been around since 1941 and is ISO certified so you can be assured of excellent quality products with high safety levels.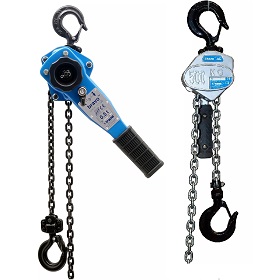 Whilst Tractel produce many types of lifting equipment such as chain blocks, lifting magnets, beam clamps and height safety equipment there are three ratchet lever hoists in their collection so yo have a good choice.
What Tractel Lever Hoists Are available?
The three lever hoists are similar in the way they work however one of them is made from aluminium making it the lightest possible.
This Lever hoist is the Bravo AC Aluminium ratchet lever hoist and is capable of handling loads up to 500kg. The original Bravo ratchet lever hoist has a bigger choice of working load limits. They start at 250kg and go up to 9000kg with 6 more options in-between. The newest model is the Bravo Desync lever hoist which boasts exclusive desynchronised pawls which prevent unintentional load release. This also has a top WLL of 9000kg.
All lever hoists can be utilised for lifting, pulling, securing and tensioning loads. The AC aluminium is better suited to lightweight tasks and everyday light duty applications. The Standard Bravo lever hoist and the Desync version are better for more heavy duty tasks. And boasts many components to assure safety, accuracy and ease of use.
Take a look at the individual product pages below where you can find out all the pertinent details including detailed specifications.
Other Ratchet Lever Hoist Brands
Whilst Tractel is one of the leading brand names in lifting equipment there are many more which you may like to compare the details with. Lifting Hoists Direct can supply lever hoists from all the top manufacturers. These include Yale, Kito, GT, Hacketts, Tiger, Raptor and LGD. Amongst these are some speciality lever hoists such as ATEX rated models for hazardous areas. As well as subsea lever hoists for use in the marine industry. You will also find Utility lever hoists for overhead line use as well as corrosion resistant models. Above all whatever you need, we are sure to have a ratchet lever hoist to suit your operation.
How to order a Tractel Ratchet Lever Hoist
Not sure what you need? No problem! Call the team on 01384 76961 where friendly advice can help steer you towards the best product for your specific task. Likewise you could also ask you questions on an email via the contact page if you prefer. Whilst some of our products can be purchased online some cannot for various reasons. However phone or email orders are very easy and safe with payments taken over the phone.