About the Tractel Brave AC Aluminium Lever Hoist
Perfectly portable the Bravo AC aluminium lever hoist performs very well at lifting, pulling and tensioning loads. There are two model sizes to choose from, these have working load limits of 250kg and 500kg. The 250kg model has a minimum measurement of just 230mm (inside top hook bowl to inside lower hook bowl) and a lever length of 100mm.
Weighing in at only 2.3kg this really is a very compact piece of lifting equipment. In fact it comes with a handy carry bag complete with a belt loop to carry it around with you; perfect for site work! The larger model is only marginally bigger as you can see in the specification table.
These ratchet lever hoists come with chain for a 1.5 meter height of lift (HOL) as standard although 3 metres is also possible.
Key Components of the Bravo AC Aluminium Ratchet Lever Hoist
The AC lever hoist consists of an aluminium casing and coated load chain. There are also swivelling top and bottom hooks. They incorporate safety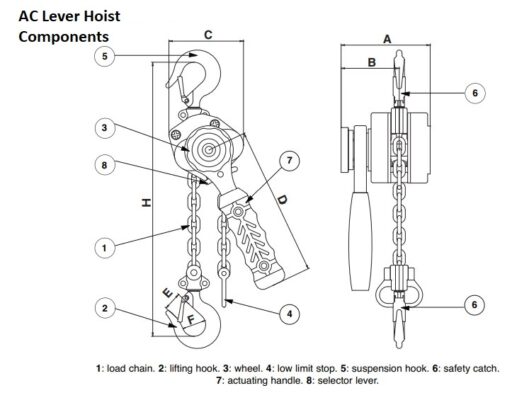 latches for optimum safety although these can be removed if necessary. The free end of the chain is fitted with a low limit stop fitting. This should not be used to fasten to a load. There is a disengage or free wheel function to enable quick chain adjustment with the limit stop. This must be done when NOT loaded.
Just under the wheel there is a selector switch. This is where you select the orientation of pull, i.e. up, down or free chaining mode.
Safety
The Bravo AC is easy and safe to use and complies with the 2006/42/CE directive requirements. The hoist is designed to withstand dynamic testing at 1.1 x WLL and static testing at 1.5 x WLL. The minimum mechanical strength is 4 x WLL. The hoist comes complete with the EC certificate of conformity.
Remember it is the users job to ensure the hoist is and remains in good safe working condition. Checks should be made prior to every use to check for defects and to ensure all elements operate correctly. A more thorough inspection should be carried out by a competent individual on a regular basis to comply with LOLER regulations.
Buying Choice for Lever Hoists
There is quite an expanse of lever hoists to choose from here at Lifting Hoists Direct. There are 3 from Tractel alone. We also supply other well known makes such as Yale, where there are about 7 model choices; other branded lever hoists include GT, Hacketts, LGD, Kito & Raptor. So compare away to find your ideal ratchet lever hoist.
Once you have made your choice you can call or email us for an up to date price and delivery options. If you would like to go ahead and order then if you can't do it online call 01384 76961 where the team will take all the necessary details from you.