Stage Hoist & Entertainment Hoist Systems
A stage hoist and other hoisting equipment is frequently used in the stage, theatre and other types of entertainment industries. This type of stage equipment are used for lighting and scenery changes for example. However a standard electric chain hoist does not quite fit the bill. These industries require specialised hoisting equipment with stringent regulations.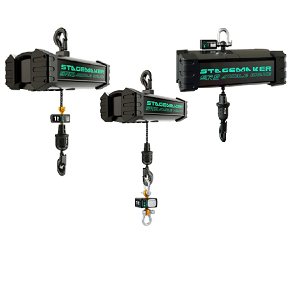 Click here to go straight to Products or read on.
Lifting Hoists Direct are pleased to be able to offer a range of electric entertainment hoists. Stage winches and theatre hoist systems specifically designed for all areas of the show business and entertainment industries. We can supply the CM lodestar electric hoist  and Stagemaster hoists from Verlinde.
All come with a wide array of features and lifting capacities, along with the many other stage equipment & accessories that accompany them. These including flight cases / trunks, load arresters and rain jackets.
Where is a Stage Hoist Used?
This is a specialised category for electric hoisting systems suitable for most areas within the entertainment and show business industry. When we talk about the entertainment industry we include theatres, concert halls, convention centres, concerts and arena tours, film sets, night clubs, schools, TV studios and many more. A stage hoist or stage winch is a typical piece of theatre equipment and stage rigging.
Verlinde Stage Hoist
The world renowned Verlinde Brand designed the Stagemaker hoist specifically for use within the stage equipment & entertainment industry. These entertainment hoists are robust industrial electric chain hoists which have been specially adapted for show business.
Both the original Stagemaker SM range and the latest SR stage hoist range are used worldwide as a theatre hoist. Consequently used in stage rigging, in theatres, studios, touring shows, major events, trade shows, concerts. The SR range has 5 models to choose from. With lifting capacities ranging from 250kg up to 5000kg. They are to be used for lifting and transporting materials only, NOT personnel.
LoadGuard Stage Hoists / Entertainment Hoists
(coming soon)
LoadGuard offer a wide range of stage hoists / entertainment hoists with safe working loads ranging from 250kg up to 5000kg. The ideal  piece of stage equipment for permanent installs or setting up events.
LoadGuard Hoists are used in a wide range of areas within the entertainment industry as part of the theatre equipment and stage rigging. Used in TV studios, Conference centres, Schools, sports centres, universities, 02 arena, and major UK theatres.
Entertainment Hoist Categorisation.
These specialist hoists are tried and trusted within the industry in the UK. However it is worth noting that Entertainment hoists / stage winch come in many variations with differing safety features and designs.
Choosing the correct theatre hoist for use within this industry is of paramount importance. Much consideration should be given to risks which may arise from the nature of usage and the operating conditions. Especially pertaining to where loads are lifted, static or moving over people's heads.
Electric hoists used within the entertainment industry must fall within one of four categories to comply with stage and entertainment industry standards and regulations.
In Brief
D8 – Electric hoists to BGV-D8 including all winches, lifting and pulling devices. For Lifting loads during assembly.
BS (Cat A) – Electric hoist to BS7906-1: 2005 Cat A, For using lifting equipment for holding loads above personnel – for performance, broadcast and similar applications.
D8+ – Electric Hoist to BGV-D8+; including winches, lifting & pulling devices. For use to lift loads during rigging erection, able to hold loads statically above personnel without using a secondary safety device.
C1 (scenery Hoist) – Electric hoist to BGV-C1; staging & production facilities, for holding loads above personnel.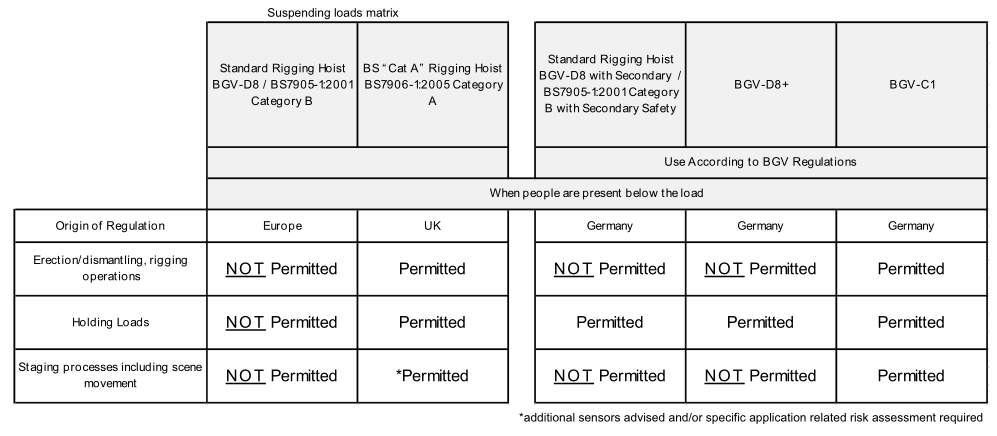 There are regulations for the UK in the form of British standards for example BS 7905. However there are some German standards that have also been adopted within the entertainment industry such as BGV C1. It is well worth researching this area carefully. This is to ensure both your location and your stage equipment comply with all the necessary safety standards and protocols for your intended operation. This is your responsibility!  You can find more details which may help here The national rigging advisory group, set up and part of Plasa –  the leading international body for all who supply technologies and services to the event and entertainment industries, promoting all aspects of health and safety.