Lever Hoists – Pull lift
We are a leading supplier of lever hoists in the UK. What's more, Lifting Hoists Direct offer a choice of hoist services to compliment your purchase. Inspections, repairs and servicing are some of the lifting hoist services we offer.
Lever hoists are commonly referred to as; Ratchet lever hoists, pullifts / pull lift, lever chain hoist or a pull winch. A ratchet lever hoist provides a versatile, lightweight and easy to use piece of lifting equipment. No industrial workers van/toolbox should be without one.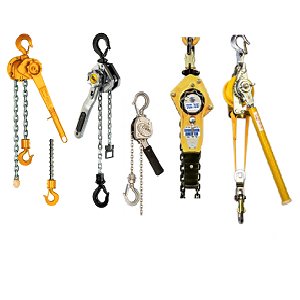 Prices From £69.90     Go straight to Products or read on.
What is a Lever Hoist?
Lever hoists are pieces of manual lifting equipment which are used not only for lifting and lowering objects but also for tensioning and pulling applications (hence the term pull lift). They are very easy to transport and most can be carried by hand. Ratchet lever hoists are easy to use too! Raising and lowering the crank handle is all that is required.
Where is a Lever Hoist used?
A Pull lift will be commonly utilised for tensioning utility lines/power cables, moving and positioning heavy plant machinery. Perhaps pipe setting, holding items in a certain position for repairs etc. Or even for pulling out tree stumps. They have a very wide variety of uses. And are especially beneficial in industrial areas, car garages and forestry operations. Cable pullers can also be used for these applications.
How does a Ratchet Lever Hoist Work?
These hoists use a ratchet and pawl system. A pawl is a hinged or pivoted catch which is commonly spring controlled. This is designed to engage on the teeth of the ratchet wheel/gear. And so preventing the wheel/gear from travelling in reverse.
The lever or handle on the hoist is cranked up and down. This allows the wheel/gear to rotate and thus raise the chain and lift the load. Each time the lever is cranked, the gear rotates with the pawl holding it in position. Which enables slow and precise control. In a reverse manner the chain will advance out and thus lower the load. Some ratchet hoists will possess more than one gear. They work in the same manner but allow heavier loads to be lifted more quickly.
A pull lift will also usually possess a chain release mechanism. This is to allow the chain to be pulled out freely to the length required to fix to a load. These hoists will also have a top hook to fix the hoist to a secure anchor point. And there will also be a hook with safety catch at the end of the chain to attach to the load itself.
What are the Main Advantages of a Lever Chain Hoist?
There are many advantages for using a ratchet pull lift / lever chain hoist. Most importantly their portability (the smallest model can be easily lifted with one hand and fit into a large toolbox). But also their precision, easy maintenance, cost effectiveness, and versatility.
They are an excellent piece of lifting equipment to use where electricity is not available or appropriate. Ratchet lever hoisting devices are commonly available in various lifting capacities. Often from 250kg up to 10'000kg and with virtually any chain length. A lever hoist can be easily re-chained with new or a different length chain as and when necessary. Some models have disc and screw type brakes and overload prevention devices fitted.
How To Use A Lever Hoist
1. Fit the pull lift to a suitable and secure anchor point using its top hook.
2. Use the free chaining mechanism to pull out the required length of chain to reach the load.
3.Ffollowing safe slinging practices, attach the load, ensuring it is evenly balanced by positioning the sling about the centre of gravity.
4.Set the lever switch to the up/raise position.
5.Crank the lever/handle all the way up then all the way back down again, continuing this cranking motion until the load reaches the position required.
6.To lower the load, put the lever/switch to the down/lower position, then crank as before and your load will be slowly lowered.
7. When safely and completely lowered you can remove the chain, and the job is complete.
Above all remember to follow LOLER protocols and safe lifting guidelines.
Purchasing Lever Hoists from Lifting Hoists Direct
Lifting Hoists Direct are top suppliers of lever hoists  / pull lift with a huge range of models available. Including models with different key features including heavy duty models with safe working loads up to 10,000kg. Lightweight aluminium pull lift models with SWL up to 3000kg. And even a sub-sea ratchet lever hoist up to 10 tonne safe working loads.
All of our ratchet lever hoists are sourced from the top manufacturers such as Yale, GT, Tiger, Kito and Hacketts. Therefore you have the assurance of good quality, reliable products all at our regular low prices.
Call us with any questions you may have on 01384 76961. For models which can't be ordered directly online you can call or email us for a quotation and/or to order.