Kito Lever Hoists
The Kito lever hoists range includes two models. Firstly the LB and the LX and with prices starting from around £165 from Lifting Hoists Direct.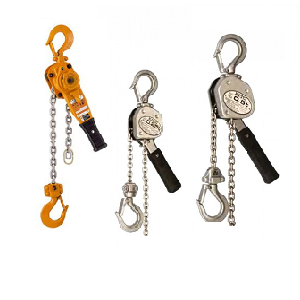 Click here to go straight to Products or read on.
About Kito Lever Hoists
Kito lever hoists or pull winch as they are often called are manufactured in Japan. They only use high quality components and skilled engineering practices. They are utilised across the globe in many different types of industries. So you can be confident in buying a Kito hoist.
Why Buy a Kito Lever Hoist?
Kito ratchet lever hoists are used to facilitate the easier lifting and pulling of heavy loads. All design work, development, manufacture, assembly and testing are done in-house at Kito's own factories. Consequently ensuring quality consistency from start to finish.
Kito ratchet lever hoists offer precise lifting across the range. Together with great prices from Lifting Hoists Direct you can be assured of a quality hoist with great safety standards.
What Kito Ratchet Lever Hoists are Available?
Currently there are two lever hoist models available from the Kito collection, the LB and the LX. Read on to find out more.
The LX Lever Hoist
With the LX model its compact nature is the main design focus. It can actually be stored and carried in a belt pouch (optional extra) meaning it is always at hand. It is ultra light with the smallest model weighing just 1.7 kg.
Because it is so compact it can be used virtually anywhere. For example this hoist is ideal for bringing together delicate parts for joining, equipment installation, car workshops and more. Safe working load limits options are 250kg and 500kg.
The LB Ratchet Lever Hoist
The Kito LB lever hoist comes in SWL up to 9000kg and has 3 different model variations to choose from. One with a free chaining device, one without and one free chaining and also an overload limiter slip clutch.
You can find out all the technical details and more on their respective product pages
More Kito Hoists & Other Brands
Kito hoists can be found in various formats here on the Lifting Hoists Direct website. So whether you are looking for a lever hoist, chain block or electric hoist you can find Kito models in each category.
If you are looking for or would like to compare with other brands then you will find respected brand hoists from Yale, Demag, Stahl, Verlinde, Gis and more. Alternatively you will find more affordable options from lesser known brands such as GT, Raptor, Hacketts and we even have the LGD option from our sister company.
Whatever your hoisting needs, you can find a solution right here, more importantly you will also find the best prices around.

Contacting Lifting Hoists Direct
Should you wish to speak to someone regarding any of our hoists, whether its for a quote for multiple items, help or advice you can call 01384 76961. Alternatively you can use the contact page form to email us your enquiry.