Minifor Hoist
The Minifor hoist is a compact electric hoisting device suitable for lifting and pulling applications. Due to its easier portability when compared to a standard electric hoist the Minifor portable hoist can benefit a wider range of applications.
Lifting Hoists Direct can supply a wide range of Minifor Hoist devices as well as offering a maintenance and inspection service. This is a highly portable Hoist to which many accessories are available.
Prices From £3477.81   Go straight to Products or read on.
Features & Benefits Of A Portable Minifor Hoist
This portable hoist incorporates a feed through wire rope. There is also a self clamping drive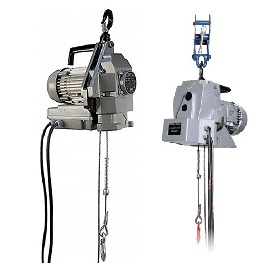 system to provide unlimited wire rope travel.
The drive system is created by a pulley with shaped grooves. These clamp the wire rope by two swivelling rollers when under load. The rollers incorporate a pre-clamping spring to ensure the wire rope stays on the pulley when not loaded.
These portable hoists should only be used with the proper manufacturers wire rope. Above all to ensure full safety and efficient use.
Each portable mini hoist is supplied with a 2.5 metre electric control cable.  A control box and a 0.5m electrical power supply cable is also included.
Customise your Minifor with Extra Options
This range of hoists come with optional extras for specific models. These include an integrated wire rope winder (must be factory fitted).
You will also find a special tackle kit. Further more this kit can essentially double the lifting capacity. Although it will halve the speed of lift.
All models can be supplied with a radio remote control system (check local regulations for verification of radio wave compatibility). These can operate up and down movements and emergency stop function.
How to use a A Minifor Hoist
The portable hoist can be anchored in two different ways. The first and easiest method is to anchor the hoist in a suspended position. This is the most frequently used method.
The second option is to anchor the hoist bearing on its base. Subsequently this method requires a few extra safety measures. For example, the surface must be flat and horizontal. It must also have holes for the unhindered passage of the wire rope.
Purchasing Information
Take a look at our range of Minifor Hoist. We can supply them direct to you at very cost effective prices. Call our sales team for more information or use the contact us form.