Although the Lifting Hoists Direct website predominantly deals with lifting hoists we can also supply a great selection of associated lifting equipment to compliment our range of hoisting equipment.
Certain types of lifting hoists will benefit from some additional lifting equipment. For example, say you have an electric hoist, how would you attach it to a gantry beam? With a beam trolley of course! Another example would be how do you attach a load to a hoist's hook? A lifting sling would be useful here!
There are many other scenarios where associated equipment will be required in order to successfully complete a lifting application.
 Click here to go straight to Products or read on.
Associated Lifting Equipment Available
We have put together a few popular essentials which you can purchase at the same time as your hoist.
Beam Trolley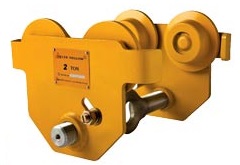 A beam trolley enables you to anchor a hoist to the beam of a crane. The trolley simply clamps onto the flanges of a steel beam. They are easy to adjust and tighten with the central screw pin which also incorporates the lifting eye where your hoist is fitted. The big benefit of our beam trolley offering is that is can be manually pushed across the beam, hoist, load and all. So if you need to lift AND move a load then our Delta beam trolley could be right up your street. Its keenly priced, reliable and robust.
Lifting Slings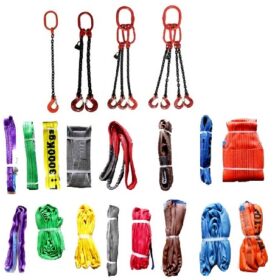 There are different types of lifting slings that are great for using with hoists. We can supply webbing slings, round slings and chain slings to suit your requirements. We can supply web slings with safe working loads up to 10000kg, round slings up to 12000kg and chain slings up to 31 tonne. The chain slings are in grade 8 steel and come in a choice of single leg, double leg, 3 leg of 4 leg configurations.
Lifting Clamps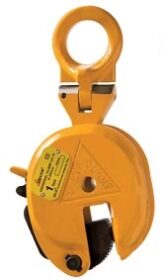 Sometimes a lifting clamp is preferable to a sling when handling particular loads especially large flat ones. Also you may need to lift sheet type objects horizontally or vertically which used to mean two types of clamps. Not with the Delta universal plate lifting clamp. This can lift in either orientation thanks to the hinged lifting eye.
Lifting Shackles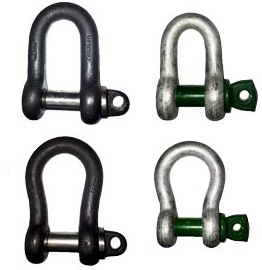 Shackles offer a semi permanent means of connecting items together. For example the two eyes of a lifting sling can be brought together and secured with a shackle prior to attaching to a hoist. We can supply most types of shackles but here you will find the most popular ones used in lifting applications. Large dee and large bow shackles can be found as well as alloy green pin bow and dee shackles.
Buying your Lifting Equipment
Whilst some products are available to purchase online, some are not! However it is really easy to order all the equipment you need in one go with a quick phone call to the sales team. Our helpful team will be happy to offer advise, give you a quote with the most up to date prices, take your order and payment and advise on delivery times. 01384 76961 is the number to call, alternatively you can drop us an email with your requirements.