About the Yale Utility Lever Hoist
The Yale utility lever hoist was developed because overhead line construction and similar applications require specialist lifting equipment Yale re-designed the tried and tested ERGO 360 lever hoist in accordance with EN 1808 safety requirements for suspended access equipment 8.9.2.
There are four lifting capacities to choose from in this lever hoist line up; 1500kg, 3000kg, 6000kg & 9000kg.
The new Ergo 360 UT lever hoist boasts an automatically acting safety gear as well as an automatic locking safety device (both with patents pending) to raise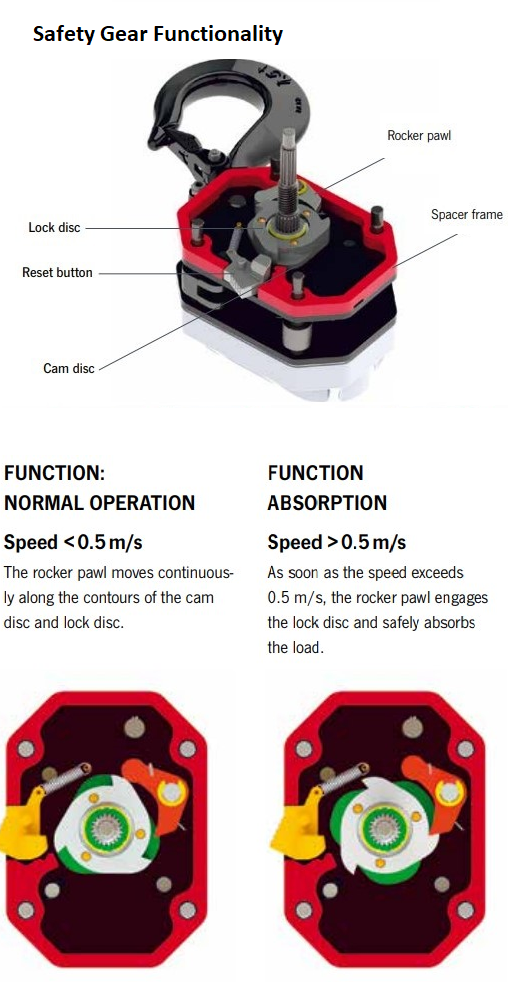 safety to the highest levels.
The auto lock safety device prevents a sudden drop or run through. It is active when a certain speed is exceeded both during operation and when inactive to guarantee permanent monitoring. This is extremely useful when left under tension for extended periods. The used has no need to activate this great safety function it is automatically applied. If over speed occurs the lock will engage and block lowering operation. Refer to the manual for the unlocking procedure.
Larger forces that could potentially cause damage is prevented due to the device safely absorbing the load after just 25-50mm.
Another great feature in its design is that the device will remain in a safe state even if an error occurs such as a broken spring, rusted pawl or simply dirt or basic corrosion.
PLEASE NOTE this comes with a redundant acting safety gear so [please read the operating instructions prior to use.
You need to ensure the catching speed is fast and constant and therefore the safety gear needs to be reset and adjusted prior to each use as it can only be done when loaded. This is quick and easy to do. Instructions can be found in the manual which can be viewed in the tab above.
More Features of the Yale Ergo 360 UT Utility Lever Hoist
This ratchet lever hoist has excellent corrosion protection due to the fact that it is designed to be used outdoors open to the elements. The main housing incorporates drainage openings all around to help prevent problems due to stagnant water and the influence of prolonged moisture, i.e. rust.
Other outer parts like the chain guide and stripper are zinc plated whilst some internal parts like the pawl, drive pinion and load chain wheel are MKS (zinc flake) coated.
Ergonomically designed the lever incorporates a folding crank handle which can be used left or right handed and folded neatly into the lever when not in use. The handles design enables a 360 degree working range which enhances productivity whilst reducing risks for the user.
Within the lever there is a directional indicator with selection lever. This allows you to choose the pull direction, i.e. up or down; lift or lower. There is also a third selection which is neutral, this can be used for free chaining to easily take up slack chain or pull out to attach the load.
Finally the suspension hook and load hooks are forged with cast safety latches for secure anchoring.
Utility Lever Hoist Options
There are a couple of optional extras that can be included for enhanced operation of the Yale utility lever hoist. Firstly there is a slip clutch which acts as the overload device. Secondly there is a chain stop and chain claw. The stop prevents chain slippage whilst the claw replaces the chain end piece, making it lighter and it can be moved into position faster than the stop. Both should be positioned as close to the housing as possible for optimal safety. Chain stops are recommended if the hoist remains under load or unattended for long periods.
Other Specialist Lever Hoists
There are similar lever hoists that are suitable for overhead line applications available at Lifting Hoists Direct. We can offer the Yale UNO plus Utility lever hoist with WLL up to 6000kg or the Hacketts rail approved Overhead line lever hoist with WLL up to 10000kg. Other types of specialist lever hoists we can supply include ATEX rated options. These are perfect for use in potentially explosive areas. Of course we can also supply standard types of lever hoists suitable for most every day lifting and pulling operations so browse the full range to get exactly what you need. Call us on 01384 76961 if you need any help.