Raptor Lever Hoists
Raptor lever hoists or pull lifts have been around for quite some time and are becoming increasingly popular due to their cost effectiveness. Read on below to find out more about the range on offer to see how they can help with your lifting and pulling tasks.
Click here to go straight to Products or read on.
Why Buy Raptor Lever Hoists?
Raptor lever hoists offer a cost effective means of lifting and lowering loads.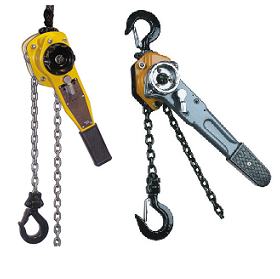 However they can also be utilized for pulling and tensioning applications. Meaning they are a really versatile piece of lifting equipment. They are manually operated although require minimal effort. Mainly thanks to the ratchet system to lift/pull and hold the load in place.
What Raptor Ratchet Lever Hoists are available?
Currently there are two ratchet lever hoists available under the Raptor brand name. Both are readily available here at Lifting Hoists Direct.
Firstly we have the Raptor mini lever hoist which makes an ideal tool box companion due to its compact nature. It comes in a choice of 250kg or 500kg lifting/pulling capacities. So is therefore great for lighter loads and everyday use.
Secondly we have the Raptor LW ratchet lever hoist which can handle loads up to 6 tonne or 6000kg. Therefore this model is better for those extra weighty loads.
Both lever hoists incorporate safety features to ensure safe lifting operations however you should always follow the manufacturers manual, safe lifting guidelines and have all lifting equipment thoroughly inspected on a regular basis to comply with LOLER standards.
Need Help with your lever hoist choice?
With the sheer volume of hoists to choose from including lever hoists from different manufacturers, it can be a bit of a minefield to compare and choose the best hoist for your needs. Lifting Hoists Direct are here to help, we can guide you towards the best type of hoist for your intended lifting task. If you need any other equipment such as shackles and slings then we can help there too. So call us today on 01384 76961 with any query you may have, our friendly team will be happy to help.