LGD Lever Hoists
Buy the LGD ratchet lever hoist online from Lifting Hoists Direct. Get a great, economically priced manual pull lift hoisting device. Lifting capacities up to 3000kg are available.
Click here to go straight to Products or read on.
Why Buy an LGD Lever Hoist?
Lifting and lowering loads, pulling objects or tensioning items in all directions can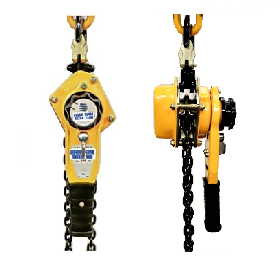 all be achieved easily with the LGD ratchet lever hoist. Frequently used for a variety of purposes in factories, workshops and gardens. However they are also ideal for site work as it is easy to transport in your work vehicle.
With no power supplies required the LGD lever hoist can literally be used anywhere. Thus making it a very versatile piece of equipment. What's more it can be a very cost effective device thanks to our low everyday prices.
Operating the lever hoist is easy and requires minimal exertion. Because the ratchet mechanism does the hard work. Find out more details of this hoist and its full specifications go to the LGD ratchet lever hoist page below.
What Other Manual Hoists are there?
Lever hoists are just one type of manual hoist, there are more! Chain blocks or a block and tackle are a popular manual hoisting device. But can not be used for lifting in all directions, straight, in-line lifts are the only safe option. They are better suited to lifting with a gantry crane or jib crane. Where you can attach it to a beam trolley.
A cable puller however can also be used to pull and tension in any direction. And are popular with vehicle recovery and arborists.
We do have a great range of powered hoist too which include electric hoists and air powered hoists as well as scaffold and builders gantry hoists. These require a power supply and so can not be used anywhere.
Questions about the LGD Ratchet Lever Hoist?
If you have any questions or need help with this or any of our other hoists then just ask. You can call us on 01384 76961 to speak directly to a member of our team. Or you can drop us an email via the contact page.