Tiger Lever Hoists
Tiger lever hoists come in various formats to ensure there is a model suited to most situations where they may be used. In production of lifting equipment for over 50 years Tiger is a world wide known brand with a trusted reputation.
Click here to go straight to Products or read on.
Why Buy a Tiger Lever Hoist?
All tiger ratchet lever hoists are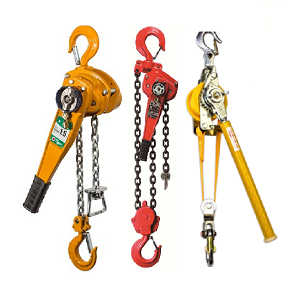 tested to the max with their complete testing system. Continuous cyclic testing and strength testing are at the forefront of this programme. Above all to ensure strength, safety and longevity of each lever hoist.
All of the main quality components used in Tiger lever hoists are heat treated and precision machined for optimal performance. They use high gear ratios too, which means that the effort required to operate them is as low as possible.
Slip clutches are used for the overload protection. This still allows the load to be lowered but not lifted. This is because the clutch slips on the chain wheel and so does not engage the gearbox.
Twin pawls are used on most models with the exception of the PROLH and SS11 subsea lever hoist which boast quad pawls for supreme safety. The quad pawl system with reciprocating action ensures that at least one pawl is always engaged in the ratcheting wheel.
What Tiger Ratchet Lever Hoists are Available?
The PROLH lever hoist has lifting capacities up to 10 tonnes. It is great for use in shipyards, overhead transmissions, mining, rail, offshore and more thanks to its enhances safety features.
The Tiger TLH Industrial lever hoist is a lighter weight and more compact hoist. But still has a lifting capacity up to 10000kg. Great for lifting, pulling and tensioning applications.
There is also a spark proof lever hoist available with capacities up to 20 tonnes, this model is based on the SS11and the PROLH hoists but with special components to make it useable in hazardous areas.
Here you will also find the Tiger web puller which uses webbing straps rather than the usual chain. Up to 1.5tonne can be pulled with this one but is is not to be used for lifting purposes.
Lastly there is the subsea lever hoist, (found in the Subsea hoisting category) the Tiger SS11. This is capable of multiple immersion subsea applications for loads up to 20 tonne.
class="western">Need help with Choosing Your Lever Hoist?
Due to the large number of options available it is often difficult to choose the most suitable lever hoist for your needs. If you would like some advice to steer you in the right direction simply call Lifting Hoists Direct on 01384 76961, where we will help in any way we can. You can also email us through the rapid form or contact us page, we are always ready to help.