Material handling, that is what is defined as the movement, control, and storage of materials or products in various industrial settings, is perhaps the most common use for lifting equipment and hoists such as lever hoists.
This process, which also requires the safe handling and protection of materials during an operation, requires efficient and reliable equipment to ensure that all of these conditions are met. One such piece of equipment, the lever hoist, is great for this. Why? We have explained more below.
What is a lever hoist?
This piece of equipment, which is also known as a pull lift, a lever chain hoist, or a ratchet lever hoist, is a compact piece of gear which is used for both lifting and lowering tasks, as well as tensioning or pulling tasks too.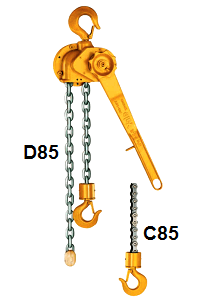 Here's an example of the gear that we stock
It uses a metal chain as its lifting medium, and provides for a versatile and lightweight solution with typical safe working loads of up to 10,000kg.
Why are lever hoists so useful for material handling?
There are a few reasons that lever hoists are effective for material handling tasks:
Their lightweight and compact nature means that they are easy to move around and transport
The fact that they can lift and lower, as well as pull or create tension, offers the user multiple ways in which to handle materials
They operate using a ratchet and pawl system. The pawl is a type of hinged catch, often spring controlled, that will engage on the ratchet's wheel's teeth, preventing it from travelling in reverse. This adds a layer of safety to the handling process
To move or operate the lever hoist, you crank the lever itself up and down. While this means that operations are completed at a slower pace, it offers the user precise control. If you have a lever hoist with more than one gear, it will operate at a faster pace
It'll come with two strong hooks at either end; one to be securely fastened around a secure anchor point from which to conduct the operation, and the other to securely attach to the material itself
So what do all of these benefits offer to a material handling operation? Total control, safety, and a secure holding position means that the user has full power over the handling of the materials that they are working with, rather than the other way round.
Common uses for this type of equipment
Some common uses for a lever hoist are:
Tensioning power cables or utility lines
The moving and positioning of heavy industrial and plan machinery
Allowing for the secure holding of objects in a particular position for repairs
Pulling out tree stumps
Would you like to find out more about our products?
Lever hoists are just one of the many types of hoist that we manufacture and stock, and we have a range of other products suitable for many other applications. If you would like to find out more, please contact us here.