Kito Chain Blocks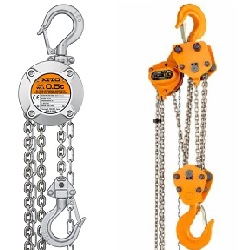 Kito chain blocks are well respected and are a popular choice for many different types of industries. Such as ship building, manufacturing, food industry, mining, civil engineering, construction and many more. They are well tried and tested in all areas and are trusted hoisting devices. Prices for a Kito chain block start from £262.28 at Lifting Hoists Direct.
Click here to go straight to Products or read on.
Why Buy a Kito Chain Block?
Kito chain blocks are made in Japan and have a great record for well designed lifting equipment. They have ISO rated factories around the globe and produce many types of quality hoists. Including Manual chain blocks / hoists, lever hoists and electric hoists.
Quality and safety are the foremost concern for Kito when developing their products. But they go further by trying to ensure the environment is protected as much as possible by lowering pollution for example.
The Range of Kito Manual Chain Hoists
There are a range of Kito chain blocks on the market including the CX smallest ever hoist. With capacities up to 500kg this hoist fits in one hand.
However they also produce the CB range and the CF chain block ranges.
The CF chain blocks are the mid range of this category and has hoists with lifting capacities up to 3000kg.
If you are looking for something even more powerful then check out the Kito CB range. Here you will find hoists with capacities right up to a whopping 50000kg or 50 tonnes. So whatever your needs are for a block and tackle / chain block there is a Kito model to suit.
Buying a Kito Chain Block
If you need to talk to someone about this or any other hoist from the Lifting Hoists Direct website you can call us on 01384 76961. You can also send us an email by filling out the form on the contact page. Our range of Kito manual chain blocks can now be purchased online with our safe payment system, its quick and easy so don't delay, buy today!