Yale Air Hoists
Yale air hoists fall within the Yale lifting equipment bracket which incorporates an abundance of lifting hoists suitable for every situation, well, almost! There are manual, electric and air power options to choose from. Essentially electric hoists and air hoists are operated in the same way but use a different power source. Here we look at the Pneumatic, air powered lifting hoists available from Lifting Hoists Direct at great prices.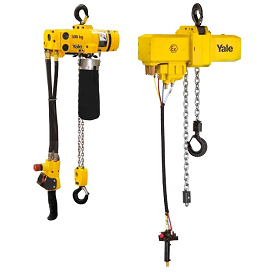 Click here to go straight to Products or read on.
Where are Yale Pneumatic Hoists Used?
Yale air hoists are commonly used for lifting applications in quite an extensive but specific range of industries. They are ideal if electricity in not available or would be deemed hazardous.
Typical areas for use include, but are not limited to; printing, paint shops, paper mills and ceramic industries. Others are wood working, aircraft, oil refineries, foundries, chemical industries, power plants and more.
Even if electric power is achievable in is not always the best option. Depending on the intention of use an air hoist could be more cost effective in the long run. As they are highly durable and lower cost to run.
What Yale Air Hoist Models are Available?
There are currently just two models available in the UK; the Yale CPA mini air hoist and the Yale CPA heavy duty air hoist.
Both will need a compressed air supply from a suitable air compressor unit in order to operate them. The mini option requires a 5-7 bar pressure whilst the heavy duty models will require 4-6 bar pressure.
The Yale CPE mini pneumatic hoist has a range of capacities ranging from 125kg up to 980kg. In comparison the CPA heavy duty version has a choice of lifting capacities from 2000kg right up to 10000kg. Therefore between the two model options there is a really good choice. Your choice will depend on the maximum working load limit you need.
It is vitally important that your air supply is filtered and lubricated as this will ensure faultless operation.
Atex rated options are also available for both models, making them suitable for a range of hazardous environments.
What other Powered Lifting Hoists are there?
Should these Yale hoists be suitable for your requirements then Lifting Hoists Direct can also supply air powered hoists from other top brand names such as Red Rooster and J.D.Neuhaus. So you have plenty of options to compare the Yale pneumatic air hoists with. There is an even bigger choice of electric hoists available on our website with single phase and three phase options from all the key manufacturers including Yale, Demag, Stahl, Kito and more.