Red Rooster Air Hoists
Red Rooster Air Hoists are synonymous with their bright red colour, robust design and likewise their high lifting capacities. One of the UK's leading manufacturers of air powered lifting hoists Red Rooster are a popular brand.
Click here to go straight to Products or read on.
Where are Red Rooster Air Hoists Used?
These hoists are used across a wide range of industrial areas as well as marine environments, and hazardous areas. Because most hoists are ATEX rated for group 2 as standard.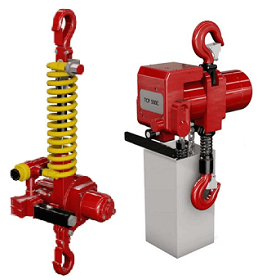 Consequently they are typically found in heavy industries, the oil industry, power plants, foundries, engineering, explosives and many more.
Safety is a top priority for R.R.(Red Rooster). Their pneumatic hoisting systems have been extremely well tried and tested over the years. Resulting in many engineers and operators always using Red Rooster air hoists. This is because of the high safety factors, efficiency, reliability and long working life.
Key Elements of Red Rooster Pneumatic Hoists
All hoist parts are manufactured in Europe or Japan to high standards under ISO 9001:2008 quality control systems. R.R. hoists conform to all EC and machinery directives and the European standard for hoisting systems BS EN 14492-2.
All R.R. air hoists incorporate name plates indicating the serial number for traceability of the hoist. Other information includes the safe working load, the model, year of manufacture and manufacturers contact details. Most importantly this should remain intact and visible at all times.
These hoists are issued with standard certification including an EC declaration of conformity. Also a thorough examination certificate to show it is safe to use and an ATEX certificate if applicable. Likewise other certification may be available on request. If the ATEX rating has been increase a further plate will be added.
One of the main benefits to a R.R. air hoist is that they are easy to operate and control. They are also simple to maintain and there are an abundance of spare parts available. So worn out or broken components can be replaced without the cost of replacing the whole hoist.
Red Rooster Air Hoist Safety Features
These Air Hoists have many safety features which include top and bottom travel limiters, and a load limiter for overload protection.
Disc brake failsafe and an emergency stop button on pendant control models are other safety features. All hoists have a safety factor rating of 5:1.

Where can I Buy a Red Rooster Air Hoist?
Whether you need an air powered hoist for a heavy duty application, for use in a harsh or explosive environment, or just need a robust, reliable hoist, then look no further.
A Red Rooster air hoist can be supplied by Lifting Hoists Direct at the most competitive prices. Give the team a call on 01384 76961 or email us with your enquiry.