About the JDN Mini Air Hoist
The JDN mini air hoist series incorporates 4 models with varying lifting capacities; 125kg, 250kg, 500kg & 980kg. They all operate on 6 bar air pressure or 85 PSI, and use a single fall of chain.
The JDN mini air hoist was developed for light duty lifting applications, unlike other JDN air hoists like the Profi series which is for heavy duty lifting operations.
Key Features of the JDN Mini Air Hoist
The Mini air hoist is suitable for use in hazardous areas and has an explosion classification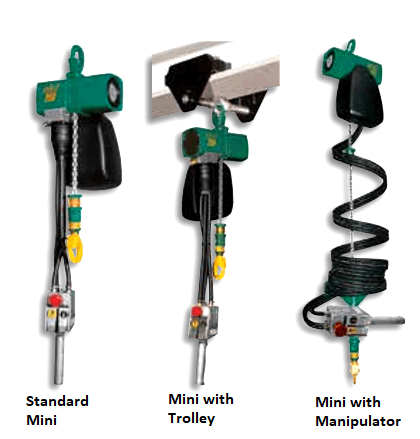 of Atex II 3 GD IIA T4.
These air hoists are lightweight and very easy to handle and are suitable for horizontal pulling. They are easy to maintain due to fewer components and can be used for lube free operation with the use of special oil free grease.
The breaking system on the JDN mini air hoist has a wear resistant motor enabling smoother breaking for longer. The hoists incorporate a lever control which is very sensitive for precise operation; it also includes a shut off valve in case of emergencies.
Three lifting heights are available as standard; 3m, 5m & 8m, the chain box also comes as standard to enable safe storage of excess chain.
JDN Mini Air Hoist Options
Other options also available include a manual trolley for easy beam attachment, and a mini tool box which makes transportation even easier, it consists of the mini hoist with a 3 metre lift, 2 metres of control cable and a 6 metre supply hose and couplings all in a robust transport box with carry handle.
Lifting and lowering speeds are great with the standard 2m length of control; longer control hoses will lower the speeds.  When fully loaded the 125kg model lifts at 15 m/min, the 250kg model at 8 m/min, the 500kg model at 10 m/min and the 1000kg model at 5 m/min, obviously the lifting speeds will increase with lighter loads and when unloaded; The lowering speeds when fully loaded are; 125kg = 30m/min; 250kg = 16 m/min; 500kg = 18 m/min; 1000kg = 10 m/min; when lowering without a load the speed will decrease as there is no additional weight to apply extra forces to help it down.
For more technical specifications  and dimensions please refer to the specifications tab, or download the PDF version in the next tab.
JDN Mini Manipulator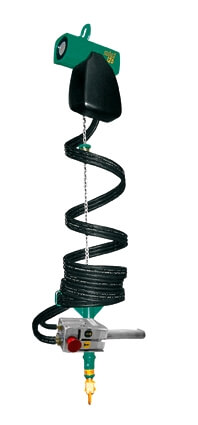 A further key advantage to the JDN mini air hoist range is the manipulator tool; this is available on the 125 kg and 250 kg models. With the addition of the mini manipulator tool loads can be lifted, lowered, traversed and fed with ease.
Operated single handily the JDN Mini manipulator air hoist is perfect for bench work due to the fact that the speed sensitivity is easily regulated with the push of a button; this enables very precise positioning of the load. They are frequently used in many industries for lifting and turning components for repair and maintenance work as well as manufacturing processes. If the mini manipulator is used in conjunction with a trolley, then it will have the additional benefit of being able to traverse across the beam.
Specifications
Type
Mini 125
Mini 250
Mini 500
Mini 1000
Air pressure
bar
6
Carrying capacity
kg
125
250
500
980
Number of chain strands
1
Engine output
kW
0,4
1,0
Lifting speed at full load1
m/min
15
8
10
5
Lifting speed without load1
m/min
40
20
10
Lowering speed at full load
m/min
30
16
18
10
Lowering speed without load
m/min
24
12
6
Air consumption at full load – lifting
m³/min
0,5
1,2
Air consumption at full load – lowering
m³/min
0,7
1,6
Air connection
G 3/8
G ½
Hose dimension (Ø inside)
mm
9
13
Weight at 3 m standard lift / 2 m control length
kg
9,5
10,5
21
23
Chain dimension
mm
4 x 12
7 x 21
Weight of 1 m chain
kg
0,35
1,0
Height of lifts
m
39571
Length of control
m
38809
Sound level at full load – lifting2
dB(A)
79
77
Sound level at full load – lowering2
dB(A)
80
83

Trolley Specifications
| | | |
| --- | --- | --- |
| Type | LN250 | LN1000 |
| Capacity (KG) | 250 | 1000 |
| Beam flange width b (mm) | 50-220 | 58-220 |
| Max. Flange thickness t (mm) | 34 | 30 |
| Min. Curve radius (m) | 0.9 | 1 |
| Weight (KG) | 7.7 | 10.5 |