Yale CPV Electric Hoist Suspensions
The innovative design of the yale CPV electric chain hoist enables a choice of hoist suspensions. There is a lug suspension point which comes as standard  and enables easy attachment to trolleys and clamps, it is also perfect for lower headroom operations. You can also opt for a hook suspension which is fitted with a safety catch for extra security. The third option is to have the hoist fitted with an integral beam trolley. This can be push travel, geared or the electric(VTE) which is dual speed and ideal for transporting heavier loads over longer distances.
Two brand new models have just been added to the CPV range, the CPV/F 25-8, capable of lifting up to 2500kg loads, and the CPV/F 50-4 which can lift up to 5000kg loads; these two new models just released by Yale greatly extend the lifting capacity of the well respected CPV hoist range.
Main Features of the Yale CPV
The standard classification group for the  Yale CPV hoist is 1Am/M4 .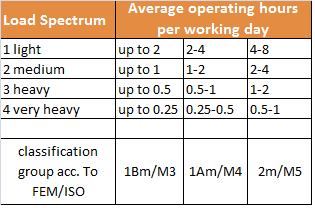 Classification groups are defined by operating hours and load spectrum. It is also possible to re-classify the CPV up to 3m/M6 with some changes to the lifting capacity resp. Duty cycle. The standard operating voltage is 400v, 3Ph, 50hz; with ambient operating temperatures between -10 to +40 degrees.
With an IP55 rating, the motor is well protected against dust ingress and water jets from any direction. The pendant control has IP65 protection against ingress of dust particles and water from all directions as well as complete contact protection.
The CPV chain hoist has a longer working life than some. This is due to the limit switches which set the upper and lower hook positions. They reduce the stress on the slip clutch, motor and gearbox. The gearbox is well lubricated in its oil bath and the gears are helically cut and hardened to enabling smooth running and low noise emission.
The guide for the steel chain and the load sprocket can be easily accessed for inspection or replacement without the need to dismantle the whole unit.
Safety Features of the Yale CPV/F
This electric chain hoist incorporates excellent safety features for extra peace of mind when lifting heavy loads. With a main-line contactor for increased safety assurance and also a spring pressure brake. This is electro-magnetic and is designed to hold the load firmly and safely, even if the power supply fails. In addition there is a slip clutch that is adjustable externally. This is an excellent safety feature which guarantees a permanent connection between the load and the brake. There is also thermal overload protection, though this is not standard and available as an optional extra. You should always follow LOLER guidelines when working with lifting equipment.
Optional Extras Available.
Suspension hook
Manual and/or electric trolley systems
Festoon cabling system
Radio-wave remote control
Thermal overload
Stainless steel load chain
If you need and more information, advice or a quotation, contact us here, we are always ready to help wherever we can.
Specifications
| | | | | | | | | | | |
| --- | --- | --- | --- | --- | --- | --- | --- | --- | --- | --- |
| Model | Capacity in kg/number of chain falls | Chain dimensions d x p (mm) | Classification FEM/ISO | Lifting speed main lift m/min | Lifting speed fine lift m/min | Hoist Motor (kW) | Motor Rating ED% | Weight suspension lug (KG) | Weight push trolley (KG) | Weight electric trolley (KG) |
| CPV 2-8 | 250/1 | 4 x 12.2 | 1Am/M4 | 8 | | 0.37 | 50 | 19 | 28 | 33 |
| CPV/F 2-8 | 250/1 | 4 x 12.2 | 1Am/M4 | 8 | 2 | 0.37/0.09 | 33/17 | 19 | 28 | 33 |
| CPV/F 5-4 | 500/2 | 4 x 12.2 | 1Am/M4 | 4 | 1 | 0.37/0.09 | 33/17 | 19 | 28 | 33 |
| CPV 5-8 | 500/1 | 5 x 15.1 | 1Am/M4 | 8 | | 0.75 | 50 | 26 | 41 | 49 |
| CPV/F 5-8 | 500/1 | 5 x 15.1 | 1Am/M4 | 8 | 2 | 0.75/0.18 | 33/17 | 27 | 42 | 50 |
| CPV 10-4 | 1000/2 | 5 x 15.1 | 1Am/M4 | 4 | | 0.75 | 50 | 28 | 43 | 51 |
| CPV/F 10-4 | 1000/2 | 5 x 15.1 | 1Am/M4 | 4 | 1 | 0.75/0.18 | 33/17 | 29 | 44 | 52 |
| CPV 10-8 | 1000/1 | 7.1 x 20.5 | 1Am/M4 | 8 | | 1.5 | 50 | 58 | 77 | 84 |
| CPV/F 10-8 | 1000/1 | 7.1 x 20.5 | 1Am/M4 | 8 | 2 | 1.5/0.37 | 33/17 | 59 | 78 | 85 |
| CPV 20-4 | 2000/2 | 7.1 x 20.5 | 1Am/M4 | 4 | | 1.5 | 50 | 63 | 82 | 89 |
| CPV/F 20-4 | 2000/2 | 7.1 x 20.5 | 1Am/M4 | 4 | 1 | 1.5/0.37 | 33/17 | 64 | 83 | 90 |
| CPV/F 25-8 | 2500/1 | 11×31 | 1Am/M4 | 8 | 2 | 3.6/0.9 | 33/17 | 85 | | |
| CPV/F 50-4 | 5000/2 | 11×31 | 1Am/M4 | 4 | 1 | 3.6/0.9 | 33/17 | | | |
Dimensions
Model

CPV/CPVF 2-8

CPV/CPVF 5-4

 CPV/CPVF 5-8

CPV/CPVF 10-4

 CPV/CPVF 10-8

CPV/CPVF 20-4

CPV/CPVF 25-8

CPV/CPVF 50-4

A, mm

327

327

357

430

431

528

514

658

A1, mm

163

163

196

196

234

234

288

288

A2 (Size I), mm

413

413

476

476

564

564

580

580

A2 (Size II), mm

526

526

644

644

764

764

A2 (Size III), mm

606

606

734

734

854

854

A2 (Size IV), mm

798

798

934

934

–

–

B, mm

23

23

22

29

29

37

37

37

B1, mm

12

12

15

15

20

20

33

33

C, mm

30

30

29

35

35

40

46

46

C1, mm

30

30

38

38

45

45

71

71

C2, mm

105

105

105

105

154

154

194

194

D, mm

16

16

15

21

21

26

35

35

D1, mm

12

12

15

15

15

15

25

25

E, mm

205

205

277

277

326

326

409

409

G, mm

102

102

120

144

140

173

179

179

G1 (Size I), mm

124

124

142

166

175

208

264

264

G1 (Size II), mm

162

186

175

208

264

264

G1 (Size III), mm

162

186

175

208

265

265

G1 (Size IV), mm

162

186

175

208

–

–

H, mm

99

99

157

133

186

154

230

230

H2, mm

92

92

158

158

186

186

230

180

K (CPV), mm

208

208

285

285

335

335

K (CPVF), mm

215

215

208

208

285

285

M (Size I), mm

157

157

162

162

209

209

300

300

M (Size II), mm

197

197

209

209

300

300

M (Size III), mm

197

197

209

209

301

301

M (Size IV),mm

197

197

209

209

–

–

N?, mm

159

159

219

219

274

274

299

299

? for 230 V, 1-phase, 50Hz: +35mm