Kito Electric Hoists
Lifting Hoists Direct can supply 3 models of Kito electric hoists with various differences and capacities up to 20 tonne. Keen prices and services are top priority for us as a leading UK hoist supplier.
Go straight to Products or read on.
Why buy a Kito Electric Hoist?
Kito is a trusted Japanese brand with their electric chain hoists having excellent safety qualities. All models are made with high quality components so you can be assured of a great hoisting device. Read on to find out more or visit the product pages where you will find all the technical details too.
Make light work of lifting heavy loads with a Kito electric chain hoist. We have three models to choose from which includes a lightweight model, a heavy duty model and a compact, variable speed model so there is something for every scenario.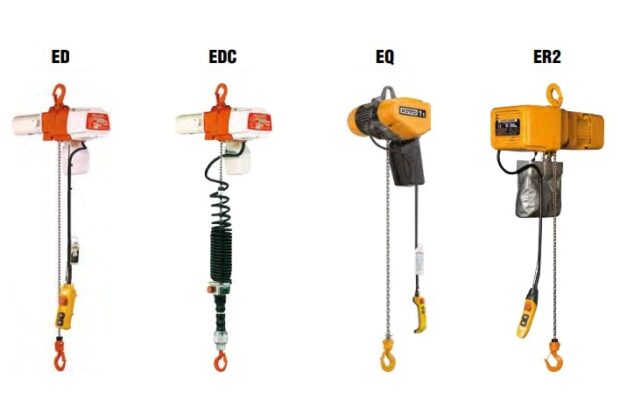 What Kito Electric Chain Hoists are available?
The Kito ED hoist is the light weight offering but is still capable of lifting up to 480kg. Single speed and dual speed options are available, all having a 3 meter height of lift as standard. This hoist also has the EDC variant which has the tool handling mechanism and has a maximum capacity of 240kg, perfect for bench work and production lines etc.
Next we have the Kito EQ electric hoist with models available with lifting capacities between 125kg and 1000kg. This is the most compact and lightweight hoist in the Kito range and boasts dual speed functionality. With the usual high build quality associated with Kito you can be assured of a quality, safe and robust lifting hoist.
The Kito ER electric hoist is the heavy duty hoist which can handle loads up to 20000kg or 20 tonne. There are single or dual speed options and comes with a standard pendant control, although a radio control option is available.
What Other Hoists are from KITO?
Kito don't just make electric hoists, they also manufacture chain blocks and lever hoists all of which are of the same high standard. There are 3 chain block models and 2 ratchet lever hoist models to choose from. You can find them all for sale on this Lifting Hoists Direct website at great prices.
So browse away and compare hoists to make sure you get the best model to suit your needs.
You can call the team if you require any guidance or need more information. Call 01384 76961 today.
Other Types of Electric Hoists
Here at Lifting Hoists Direct we have have some of the best known hoist brands available. Our electric hoist range covers models by Yale, Demag, Stahl, Gis, Verlinde, Donati and Liftket. We only sell trusted brands known for high quality and safety. In addition we are the UK's leading supplier of Yale hoisting equipment thanks to having the keenest prices around. We can also supply any type of beam trolley to suit your chosen hoist as well as other supplementary equipment like slings and shackles, just give us a call and ask!