Demag Electric Hoists
Lifting Hoists Direct can not only supply you Demag electric hoists, we can also offer service and maintenance packages too. We can get hoist parts and offer  repairs. As well as thorough inspections complete with all the necessary documentation you will need for your records.
Click here to go straight to Products or read on.
Why Buy a Demag Electric Hoist?
The long established and well known brand name 'Demag' is one of the best respected within the lifting gear industry. (now part of the Terex group, and re-branded – Terex Demag ). A Demag hoist is very reliable and quite compact. Although it is robust enough to complete most lifting and manoeuvring tasks within most workplace situations. Demag electric chain hoists come in a great range of models and safe working load limits. Thus there should be a model to suit your requirements.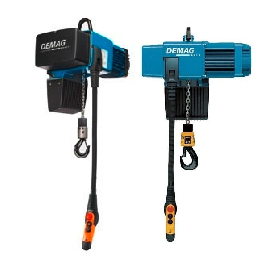 What Types of Demag Electric Hoists are Available?
A Terex Demag chain hoist could be the answer to your material handling issues. There is a range of 6 hoists available to suit a wide variety of lifting applications. Consequently there are various types of suspension points and a range of trolley systems available to further compliment your hoist.
Demag hoists also manufacture the Manulift which is the perfect accompaniment to any workbench. The Manulift enables you to lift, lower and move loads and tools with great precision on and around your working area.
The DC-Pro electric hoist and the DCS-Pro hoist offer exceptional quality and lifting power with 5000kg & 3500kg lifting capacities respectively. However the DC-COM hoist is a smaller, everyday hoist with up to 2000kg load lifting capacities.
If you need an electric hoist for use in a wind turbine, Terex Demag has the solution with the DC-wind electric hoist. This relatively new Demag electric chain hoist will work well with the majority of wind turbines.
These hoists are using innovative means to expand their range of compact electric hoisting systems. These systems now include synchronised double chain hoists, and quad chain hoists. They also include a speed hoist and a low headroom travelling hoist. Whatever your lifting task requirements, the chances are that there is a Demag model perfectly suited to your needs. Whether it is a simple, standard lifting operation using a more common place, hoisting system on a crane or overhead beam; a bench/tool handling hoist for precision work or for the smooth operation of a wind turbine, a powered Demag chain hoist could be the answer.

Where can I Buy a Demag Electric Hoist?
Nearly all types of Demag electric hoists can be purchased from Lifting Hoists Direct. They are a trusted hoist supplier within the UK and also offer back up services such as installations, repairs and inspections. The prices at Lifting Hoists Direct are one of the most competitive around so in short because of the back up you get too this is a great place to buy from. Call 01384 76961 today!