Compact Delta DEH Electric Chain Hoist Details
The Delta DEH is a compact electric chain hoist which inspires confidence to its users. It has some pretty neat features and includes multiple upgrades (2022) to ensure great user experience, easy operation, reliability and overall excellent customer satisfaction.
The Delta Hoist Upgrades
Overall the upgrades have further enhanced an already great hoisting system making it run more smoothly, thus efficiently plus its easier to operate and maintain. If you think all these upgrades will make the hoist too costly then think again, it is one of our most competitively priced electric hoists and one we are proud to supply.
The upgraded components include the contactor housing which is now a steel plate and ensures the Siemens relay contactors can be easily switched out if necessary.
Plug and play connections have been uprated to provide a better quality connection for adding or changing components such as adding a remote control device or power trolley system.
Pendant control device has also undergone an upgrade to provide easier, ergonomic usability.
Other upgrades include the gearbox, easily accessible chain guide and chain bucket.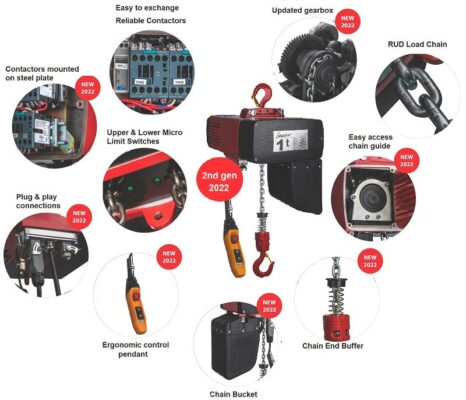 Other features of the DEH Electric Hoist
Lifting capacity choices range from 250kg up to 2000kg and comes with a safety hook suspension as standard. An added bonus is the standard height of lift which is 6 metres, most other hoists only give you 3 metres.
The hoist is controlled via the ergonomic pendant controller although there is an option to have radio remote controls if required. The DEH has a 40% duty cycle giving around 240 starts per hour thus great for repetitive use. There is a chain end buffer for hook and load protection, micro limit switch and also a slip clutch for overload protection (adjustable) all coming as standard. The chain bucket enables unused chain to be held captive, out of the way.
This is a dual speed hoist which has 8 metres per minute as the maximum lifting speed on the fastest setting (not 2000kg model) it has 3 phase power – 50Hz 400-440v.
You can find out more technical details in the specifications below.
The Delta DEH chain hoist has the option to add a push travel trolley or a dual speed powered travel trolley for quick and convenient fitting to your beam in place of the hook suspension. These trolleys can also be added easily enough at a later date if required, thanks to the plug and play easily inter-changeable design.
Should you need a larger lifting capacity take a look at our other Delta Hoists, the Delta DTS goes up to 5000kg.