TEA – L'Europea Scaffold Hoists
As Lifting Hoists Direct are one of the main suppliers of TEA – L'Europea scaffold hoist systems within the United Kingdom. You can be assured of quality products at great prices in addition to good back up services.
We can supply the full range of L'Europea scaffold hoists. This includes the brand new HG200 scaffold hoist. With its innovative design enabling lifting from a hoist positioned on the ground.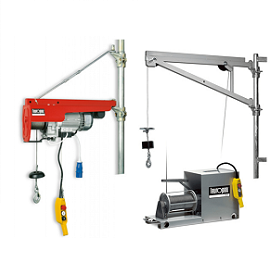 About the TEA Scaffold Hoist
The full range includes scaffold hoists with 110volt or 220volt supply. Moreover the lifting capacities go up to 200kg. Some models can be radio controlled. Consequently enabling easier handling. For instance the HE200 scaffold hoist.
The TEA, manufactured L'Europea scaffold hoists are commonly used around construction sites, large and small. This is because they can speed up those lifting tasks immensely. They are perfect for getting your loads to high levels both quickly and safely. More importantly minimising nearly all risk of personal injury.
Using an innovative conical break system you can be assured of a well tried and trusted product. The Imer brand is at the top of their field in the construction industry.
Want a scaffold hoist you can rely on? Call Lifting Hoists Direct Today for a free quotation. Above all the price to quality ratio on these L'Europea scaffold hoist is difficult to beat.