TEA L'Europea Builders Gantry Hoists
TEA L'Europea Builders Gantry hoists operate in a similar way to scaffold hoists. However they are anchored quite differently.
They do not fit to a scaffold pole. But instead use a stand alone gantry framework or trestle.
Click here to go straight to Products or read on.
This steel framework enables the hoist to be move along the top runway beam. This has end stops to prevent the hoist from coming off. The frame is positioned so that it overhangs the edge of the building. This will obviously be unstable unless the frame is anchored down.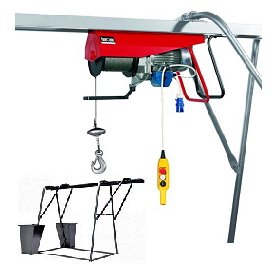 Using the Builders Gantry Frame
These gantry frames do not require bolting down or permanently fixing in place. This is thanks to the two steel ballast boxes which are fitted to the rear of the frame. These can be filled with suitable materials such as sand or bricks of a certain weight. This will provide a stable counter balance to the overhanging hoist and the load it will be lifting.
A good level of knowledge will be required regarding the forces implied. As well as the ballast needed to maintain stability and safety at all times. Always adhere to all manufacturers instructions.
There are three sizes of this type of gantry for use with the TEA builders gantry hoists. They are 300kg, 800kg and 1000kg models. More details can be found under the TEA accessories page.
Why use a TEA Builders Hoist & Trestle
A builders hoist trestle system is perfect for use on construction sites where scaffolding is not available. If there is a scaffold tower then a scaffold hoist would probably be the most suitable option. If not then a builders gantry hoist with a counter balanced gantry frame is a good alternative.
There are 6 TEA gantry hoists to choose from with a range of lifting capacities. Up to 800kg can be handled. They can all be used with the TEA gantry frame and ballast boxes giving you a great range of options.
There are two power types to choose from. The MF hoists are single phase however the TF range are 3 phase hoists.
TEA L'Europea is an Italian brand, well known for its construction equipment. Their scaffold and gantry hoists used on many sites around the world and Lifting Hoists Direct is the leading UK supplier so you can buy this brand with confidence.