Yale Cable Pullers
When purchasing Yale cable pullers you can be assured of quality products. Part of the Columbus McKinnon Corporation the Yale brand has many years of tried and tested lifting equipment with many innovative products.
Click here to go straight to Products or read on.
Types of Yale Cable Pullers
The range of Yale cable pullers available from Lifting Hoists Direct include the popular Yaletrac system. The Yaletrac is light in weight due to it being made from aluminium and so is easy to carry around. The Yaletrac cable puller also comes in a steel version – The ST model. This has been purposefully designed with the mining industry in mind. Each version incorporates 3 models with working load limits of 800kg, 1600kg & 3200kg. Meaning there is a model for even the most arduous tasks..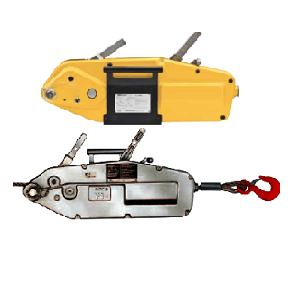 As well as the standard variety of cable pullers Yale also have the LMG little mule cable grips for pulling and tensioning un-sheathed wire rope. It has pulling forces up to 5000daN. daN is a common measurement of force often used in engineering. As a guide –  1 daN (dekanewton) = 10 n (newtons) or 1.019716 kgs (kilograms) of force. As you can see the daN is very close to the kg and so is usually just substituted in lifting and engineering applications.
How to Customise and Maintain Yale Cable Pullers
Yale's wire rope cable pullers are easy to maintain and spare parts are readily available should they be required. Keep them clean and lubricated and they will last a long time. You can easily customise your Yale cable puller to make it the most suitable for your pulling operation. The length of rope can be whatever you need it to be, there are no limits. What's more the fittings on the rope ends can be changes to suit your needs. We can offer fuse and tapered plain ends, hooks and sockets as well as soft or thimble eyes.
Buying a Custom Cable Puller
Lifting Hoists Direct can supply any Yale cable puller together with your chosen length of the correct type of wire rope. Our own team of rope riggers can quickly customise the rope for you to add the end terminations of your choice. Therefore you can truly buy a custom Yale cable puller to suit a specific lifting or pulling application.